"Today you are You, that is truer than true. There is no one alive who is Youer than You."
― Dr. Seuss, Happy Birthday to You!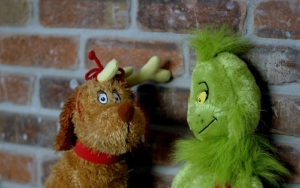 Sweet sing song truth. Thank you Dr. Seuss. Another You there's never been, even when, even then. No, it's true, I say, the way you played was deeper than deep and deeper yet, rhymes and rhythms our attention to get.
It wasn't child's play what Dr. Seuss did with words. He brought magic to the world with his story poems, delighted and frightened and marveled us all. He gave children the chance to remember and even better was the remembering he gave to the grownups, the old stodgy, dodgy moms and dads who read his tales to the children before bed.
I'll bet that inside of you a light turns on when you hear his sentences strung together with love and hope. He was perhaps the most inspirational of all writers.
How does somebody get to be a Dr. Seuss? We can't be him, can't walk in his shoes, down his road. You can only be you.
There is no one alive who is Youer than You.
That's really wonderful news. And I say that with a moment's hesitation because I know some people who confound the rest of the world. If only we could grasp that there is no "other". We're all energy bouncing around, morphed into skin cells and eyelashes.
Different than me doesn't make you any less wonderful. Different than you is my truth. But we're not so different, we're all just boundless energy in infinity. Relax, okay?
Today's the day you get to take three deep breaths and let go of what isn't Youer than You.
Did you catch that? Let go of those things that look like someone else and stop you from being your truest self. It might not happen overnight, but I bet there's one thing that pops to mind, one plastic Scooby Doo or Teenage Mutant Ninja Turtle mask you're wearing.  Take it off. Be you.
Thanks, Dr. Seuss, for making our lives better one rhyme at a time. Much gratitude to all that your words continue to be.
Sign up here to get 1 new blog post delivered weekly to your inbox!
[mc4wp_form id="162″]